Micène Fontaine, Aug 8, 2019 11:00:00 AM
I regularly spend time reading through carefully curated resources about shifts (disruption some might call it) in the architecture and interior design industry. I have done that many times, and I am usually left with a short list of 3 to 5 topics that we develop into continuing education courses. Our top 5 picks for what should be on your radar if you are a professional architect or interior designer. Shifts that will impact you - eventually - even if they have not trickled down to your practice - yet. For the most part, these picks hold. We deserve no credit. The signs were everywhere - across countless trade publications, conversations, blogs, podcasts, and at trade shows.
A few weeks ago, I took over the dining room table with hundreds of magazines, a pair of scissors, post-it notes, markers, and a glass of wine. As usual, my husband and cat looked on probably wondering what had gotten into me this time. With content being published faster than the most dedicated binge reader/listener/watcher can keep up with, the process has become a bit overwhelming. I am often left wondering: Have I sifted through enough resources? Have I missed something? How will this matter in a few months or a few years? And, of course, who cares?

What I am sharing here is what stood out to me the most. Plenty was edited out. I invite you to share your thoughts.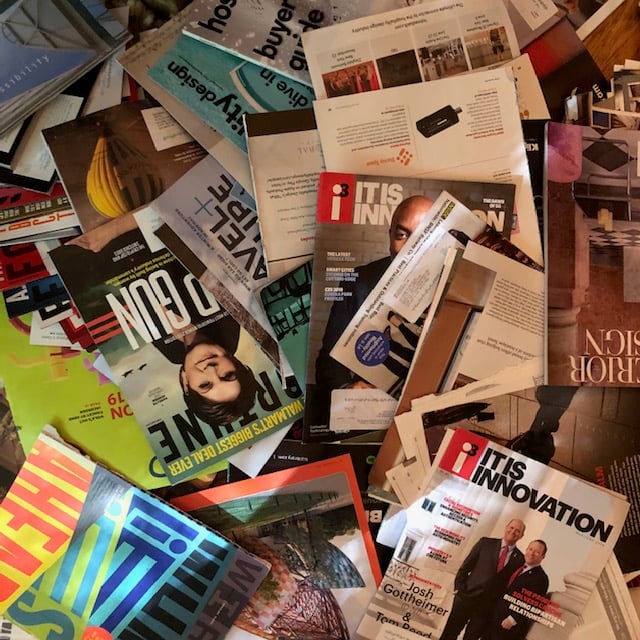 # 1 - TECHNOLOGY
Augmented Architects & Designers: The basic idea is that technology is slowly starting to supplement the work of architects and designers. Artificial intelligence and machine learning have enabled the rise of generative design. The software uses a set of requirements and constraints to generate design options, which the human architect/designer can work from and refine/iterate. A similar process exists in countless industries. For example, in the training and development field, Quillionz uses AI to create questions, assessments, and quizzes. WildFire uses AI to turn text, videos, and PowerPoint presentations into a course. It is a machine-assisted way of taking the first pass at a grueling task.
Augmented Materials, Furniture, and Finishes: Innovation is also "augmenting" materials, furniture, and finishes and turning them from passive into active "sensory components that harvest energy, interface with their surroundings, and respond to the surfaces around them" writes Bradley Quinn in Materials Future. Do you now see why Google is an exhibitor at Milan's

Salone del Mobile?

The Master Communicator: In Visions of the Future, Patrik Schumacher, (Zaha Hadid Architects, London) reminds us that "each building is a device that invites, structures, and frames interactions" with occupants and with the rest of the built environment. IoT, 5G, AI, etc. all generate and use data. The exchange of data creates an opportunity for responsive environments in which architects and designers take on the role of liaison within and between communities, and work with urban planners and developers. Architects and designers can measure and quantify their impact. Some argue that architects and designers could soon be compensated based on the performance of the buildings they design.
# 2 - PURPOSE
Societal Issues: Architects and designers are trained to solve problems, yet they are now taking it into uncharted territory and tackling broader societal issues. This shift was palpable during the inauguration of William Bates, FAIA as 2019 AIA President when he said: "My dream is for architects to lead efforts to create a more fair, sustainable and peaceful world that embraces all, and disenfranchises none." It goes well beyond matters of accessibility/universal design, climate change, resilient design, sustainability, and historic preservation, which all very important. Some are now rediscovering the merits of designs that have a soul or a sense of place. Can you tell where you are when you are there or could you be anywhere? Others are very mindful of the relationship between the built environment and social justice, and equity. Food, education, obesity, housing, homelessness, prison reform, autism, diversity are also on high on the list of architects and designers who have made it their mission to use design and architecture to impact the world around on them locally or globally. The Living Building Challenge even incorporates some of these as part of the criteria used to evaluate a project.
Internal Issues: The architecture and interior design industry is also coming face-to-face with internal issues such as lack of diversity (race/gender) or practices deemed "elitist." For instance, unpaid internships are common practice, which means only those who can afford not to be paid can take on internships that often serve as recruiting pools for those same firms.
# 3- HEALTH & WELLNESS
Life expectancy has decreased two years in a row and, when compared to other high-income countries, the United States ranks 18th for life expectancy. Researchers point to obesity and mental health as the main culprits. With this grim assessment, it's no surprise to see wellness very much top of mind for many professionals across a variety of industries. The push towards health and wellness is why interest in biophilia, active design, and mindfulness have peaked and why certifications like WELL, Fitwel, and the Living Building Challenge are on the rise.
# 4 - FUTURE-READINESS

Back to basics: While it is true that to tackle today's most significant issues, architects and designers must leverage new materials, technologies, and building techniques. They must also, as several prominent architects observed in Visions of the Future, re-learn and rediscover how to use local, simple, traditional materials and building techniques that work with the forces of nature rather than against or in spite of them. The additional benefit of this approach is that it perfectly aligns with several of the priorities listed above: sustainability, create a sense of place, social good, biophilia, wellness, etc.
# 5 - BLURRED LINES
Symbiosis: Klaus Schwab, the founder and executive chairman of the World Economic Forum, predicted the mix of the physical, digital, and biological factors. He observed that "engineers, designers, and architects are combining computational design, additive manufacturing, materials engineering, and synthetic biology to pioneer a symbiosis between microorganisms, our bodies, the products we consume, and even the buildings we inhabit."
One system: People - all of us - our purpose, our health, wellness and happiness, the food we eat, the water we drink, the electrical grid, the internet, the buildings and cities we live, learn, work, play, age and heal in, it's all part of the same system. Architects and designers are creatives trained to solve problems and, as such, are perfectly positioned to help us take on the critical issues of our time. With the explosion of urban populations across the globe, architects and designers must rethink current building techniques. Their work determines how the built environment serves its citizens and impacts health, quality of life, education, food, social equity, climate change, and the city as a place to live.
# 6 - BONUS PICK: THE PURSUIT OF LIFELONG LEARNING
The Problem: Information is cheap. In the 21st century, in many countries, knowledge is a click, tap, or voice-prompt away. Just think about the last time you used your phone to verify a piece of information. Not only is information cheap, but trying to keep up with new knowledge is a losing battle. The "Knowledge Doubling Curve" created by the American Architect, Buckminster Fuller, illustrates that point. At the turn of the 20th century, human knowledge doubled approximately every 100 years. By the middle of the 20th century, it was doubling every 25 years. Experts now estimate that, on average, human knowledge doubles every 12 months and could soon be every 12 hours. If that weren't enough, there is a lot of - intentionally or not - inaccurate information available and what is accurate has a shorter shelf life than it once did. What we learn quickly becomes irrelevant, incomplete, or outdated. What does have enormous value is meaning-making. How do you connect the dots? As the author of "Non Obvious: How To Predict Trends And Win The Future," Rohit Bhargava, puts it, "curation is the ultimate method for transforming noise into meaning." An attempt at meaning-making is what led to this article. Myriad tidbits of knowledge re-organized in a way that helps us highlight what matters, how it matters, and how it is all interconnected.
The Solution: Most of us are lifelong learners. Every conversation, every question you ask, everything you read, watch, or listen to is an opportunity to learn. Be deliberate about your learning. Create a list of varied and reliable sources. Include sources that challenge your thinking (aka sources you tend to disagree with) and some about industries that have nothing to do with yours. Set time aside to reflect and ideally make this process tangible (jot down notes, doodle, create mind maps or anything else that helps you crystallize your thinking). Being a lifelong learner does not mean enrolling in every course, seminar, workshop, webinar, or boot camp that comes your way. Formal learning experiences will likely be part of your life as a lifelong learner, but most of it will be informal. Learning is an iterative process, and it can be a bit messy. If you are vigilant and take charge of your learning, you can improve the way you make meaning of the world and use to thrive in today's information age.
FINAL THOUGHTS

Aesthetics affect our well-being, but architects and designers can no longer afford to practice solely for the sake of architecture and design. The built environment should be beautiful, respect nature, remember the past, leverage technology, prepare for the future, and serve all of humanity.

More than our top 5 picks for what will shape architecture and design in years to come, this is a call to action. Given the overwhelming nature of the task at hand, it might be a good time to channel the 26th U.S. President, Theodore Roosevelt, and "do what you can, with what you have, where you are."

And, of course, keep learning.