Study Tours: Explore the World and Earn CEUs.
Marifi Tipton, Jul 26, 2017 10:03:00 AM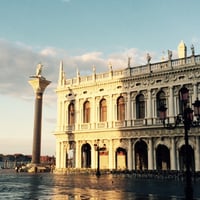 Study tours open up unlimited learning opportunities and are a fantastic way to earn continuing education credits. These trips are an experiential, hands-on, and fun alternative to the traditional classroom or online CEU offerings. However, much like their classroom and online counterparts, study tours are designed with rigorous learning objectives in mind. Here is a short list of things for you to consider as you evaluate whether or not study tours are a good fit for you.
Pictures are worth a thousand words, but nothing can replace the real-world experience that study tours provide. They reinforce and enhance learning.

You will return with a renewed sense of focus and inspiration.

Study tours are an unrivaled opportunity to connect with and learn from fellow designers and architects with whom you travel, as well as from those you meet while on tour.

Mark Twain was right when he wrote that "travel is fatal to prejudice, bigotry, and narrow-mindedness". Expect to gain new perspectives on the world at large and insights about who you are, as well as the role your designs play in making this world a healthier, safer, and happier place in which all of us can thrive. Study tours allow you to witness first-hand how different cities or countries use interior design and architecture to tackle local challenges.

If you've ever planned a tour on your own, you know they require an incredible amount of planning. Traveling with an organization with an established track record in educational travel saves you the trouble of planning and provides you with access to sites that you would most likely not have have access to on your own.

Tours are carefully fleshed out to stimulate all senses and engage your body, mind, and spirit. There is no better recipe to create meaningful learning experiences.
Our founder, Manuel León Ponce, was very fond of the idea of the world as a "classroom without walls", which we have used extensively by conducting study tours both in the US and abroad since 1992.
We hope you will consider joining us on our next study tour. In the meantime, for more insights from design professionals who participate in study tours, check out ASID's Icon magazine article entitled "Have sketchbook, will travel" for which our Executive Director, Micène Fontaine, was interviewed. Should you wish to be kept informed about upcoming architecture and interior design study tours, please fill out the form on this page. Until then, Bon Voyage :-)